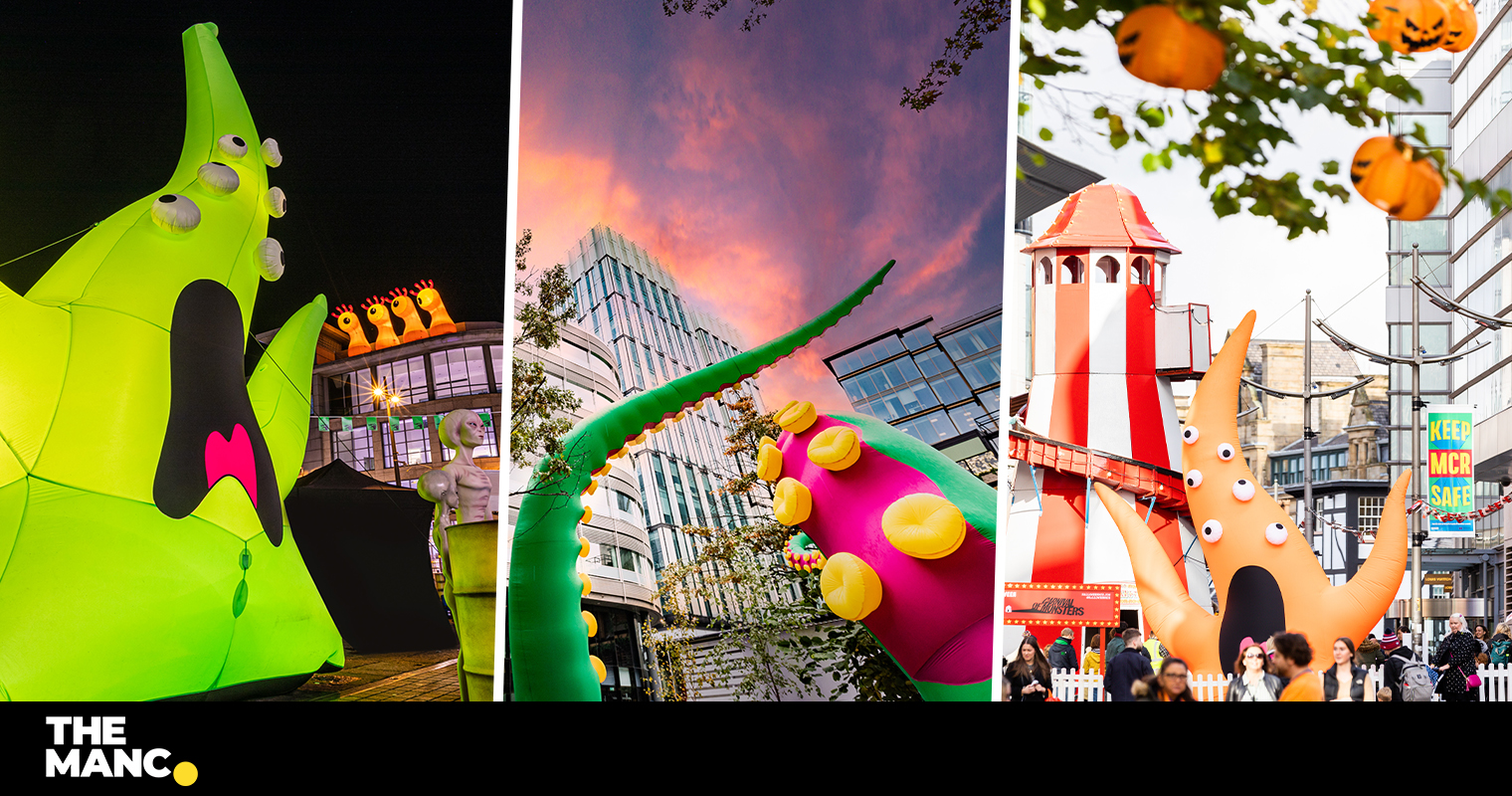 Spooky carnival, monster parade and more planned for Halloween in the city of Manchester
What's new
The monsters are back.
Downtown is ready for Halloween, with orange pumpkin lanterns already adorning the trees around town and a definite autumnal chill in the air.
As per usual, Halloween in town will turn our streets into a spooky party for the occasion, with a weekend of surprisingly good family events on Saturday 29th and Sunday 30th October.
It's all organized by the Manchester Business Improvement District (BID) and will include ever-popular events as well as brand new attractions, with families warmly encouraged to put on their best fancy dress.
Giant inflatable monsters will be back, menacing and crawling over downtown buildings, transforming our landmarks with tentacles, wide eyes and sharp teeth.
This year it will be bigger than ever, with 14 monsters to spot in town on the trail between October 25-31.
Scary creatures will also be on the move in the Monsters Rock! Party Procession, which will pass through Manchester Arndale and Market Street.
The traveling performance comes from Walk the Plank, the same creative minds behind the Manchester Day Parade.
Expect stilt walkers, monster puppets and a five-piece band mingling with shoppers on Saturday October 29 and Sunday October 30, with performances at 12 p.m., 2 p.m. and 3 p.m.
A spooky carnival, consisting of a carousel, a helter skelter, street food and circus performers, is set to take over New Cathedral Street.
Additionally, Studiotech and Treacle Studio have discovered a mystical machine made by Queen Elizabeth I's court scientist and magician – and Dr. Dee's portal to another world provides a gateway for any friendly monsters that arrive in Manchester to Halloween in the city.
This interactive light display will prompt Mancs to see if the portal works upside down and could lead to the world where monsters roam.
Dressing up is, understandably, encouraged all weekend, but especially so for the Fancy Dress Challenge, where Team Trick and Team Treat compete to be crowned Manchester's scariest beasts.
There will be dancing, shouting contests, spooky challenges and a costume parade to earn points and special prizes, as well as VIP experiences for attendees.
Read more
Rock with your mini monster at Monsters Rock! Music festival with live bands and spooky DJs all weekend long, like Fat Boy Slime, Grave Haslam and the Blessed Medusa, plus air guitar contests, zombie aerobics and a glow-in-the-dark disco, on three stages .
A huge spooky ice rink is being built in the Cathedral Gardens, where skaters will ride past a huge monster and the ice will come to life with Halloween-inspired music and lighting.
The Scare Skate rink will open on Friday, October 21 and will remain in place until Halloween itself.
The full lineup is below, along with times and locations for all other Halloween events around town.
Halloween Events in the City 2022
MCR Monsters – October 25-31 – Anywhere Downtown
Monster Rock! Fête de la Musique – October 29 and 30, 10 a.m. to 8 p.m. Saturday; 10am-5pm Sunday – Exchange Square, New Cathedral Street, St Ann's Square and Market Street
Fancy Dress Challenge: Team Trick vs Team Treat – October 29 and 30, 10am-4pm – Various locations
Monster Rock! Feast Procession – October 29-30, 12pm, 2pm, 3pm – Manchester Arndale and Market Street
Spooky Carnival – October 29 and 30, 10am-8pm Saturday; 10am-5pm Sunday – New Cathedral Street
Dr. Dee's Portal to Another World – October 28-30, 4-8 p.m. Friday; 10am-8pm Saturday, 10am-5pm Sunday – St Ann's Square, Manchester
Skate Manchester Halloween – October 21-31, 11am-8pm – Cathedral Gardens
Featured Image: Supplied
What's new
'Beautiful' brings the life and music of Carole King to the Palace Theater in Manchester

Danny Jones
Magnificent: Carole King's Musical returned to Manchester this week and Le Manc were kindly invited to the press evening. We of course accepted because we are cultured like that.
Dozens of excitable theater heads hung out in the chilly fall queues for the sold-out show at the historic Palace Theater on opening night on Tuesday, October 12.
Tracing the life and career of legendary singer-songwriter Carole King, the show takes you through her early life as a four-year-old piano prodigy, selling her first single at the age of 16 and marrying her creative partner Gerry Goffin to headline Carnegie Hall and become a global musical sensation.
Known for solo hits like "You've Got a Friend," "So Far Away," "It's Too Late," and dozens more, the production was part music history lesson, taking a whirlwind tour through the music industry in the 1960s and 70s.
As we entered the show expecting to know a few tracks from her long discography — "Take Good Care of My Baby," "The Loco-Motion," "Natural Woman" and so on — we were surprised to learn how much she wrote about her illustrious career. This very legend written for the Beatles.
Seeing her personal and professional life unfold on her way to finally writing and singing songs for herself not only felt like an emotional time travel, but almost flew on the wall documentary at times, only with great dramatic settings adapted from the Palace. equally beautiful room.
King herself is passionately portrayed by 2020 Olivier Award winner Molly Grace-Cutler who proves to be a perfect cast as a Brooklyn-raised singer.
Aside from her booming vocals throughout its 2-hour (interval-free) runtime, her performance was full of raw pain and joy in equal spade while sprinkling plenty of comedic relief, like the rest of all.
Beyond the likes of Goffin (Tom Milner) and fellow '60s singer Cynthia Weil (Seren Sandham-Davies) – who both enjoyed several jaw-dropping solos and big story beats as key players in King's turbulent life – we were particularly impressed with Jos Slovick, who starred as songwriting rival Barry Mann.
One of the many mainstays of the Brill Building and Dimension Records era of its history, Slovic played the rosy-cheeked, allergic hit-maker and did it to perfection, regularly leaving audiences in stitches. as well as surprised by her sweet voice.
To be honest, we all loved them.
Read more:
The performance was greeted with a well-deserved standing ovation and an encore that got the crowd moving for one last song. We couldn't think of a better way to go out than with a boogie.
Even for theater newbies, we dare say this hit Broadway and West End show might convert you and even if it doesn't end as a musical, it's nearly impossible for any music lover not to be engrossed. by this true story.
You can buy tickets for the remaining dates of Magnificent: Carole King's Musical by ATG HERE. The show ends its five-day run on Saturday, October 15, so grab them while you can!
For all the latest news, events and happenings in Greater Manchester, subscribe to The Manc newsletter HERE.
Featured Image — Provided
What's new
Little Mancs can become pilots at Manchester Airport's flight academy this semester

Sergeant Emily
Little Mancs can try their hand at becoming a pilot this October semester, as the much-loved Flight Academy returns to Manchester Airport.
After proving popular with families during many school holidays in recent years, the Flight Academy program is back at Runway Visitor Park in just a few weeks – with 90-minute sessions to give curious kids the chance to learn all about it. on different professions. roles that help keep ManchesterThe airport in action all year round.
The first part of the session takes place aboard a retired Monarch DC10 airliner, so kids can sit in the cockpit and learn about everything from the role of cabin crew to ground operators, etc
They will even be able to dress up the role and "take control" of the cockpit as well.
And if all that isn't fun enough, then they'll head out to check out the Manchester Airport runways, watch the planes take off and land, and check out some of the different jobs they've just learned about. about in action.
After the session, families are encouraged to take a peek and make the most of the impressive facilities at Runway Visitor Park.
With sweeping views of the nearby airfield, some of the sites on offer include watching planes, such as the giant A380, come and go from close quarters, visiting the park's retired airliners – including the iconic Concorde – and stop at the giant playground and on-site cafe.
"We are thrilled to bring the program back so families can enjoy it again this October semester," explained Robert Hassard – director of Runway Visitor Park.
"It is a consistently popular family experience and has inspired many young people to consider a career in aviation."
Read more:
flight academy at the Runway Visitor Park will run daily from Monday October 24th to Friday October 28th, with sessions split into two age groups – one for children aged 4-7 and another for those aged 8-12.
Tickets cost just £12 for a child accompanied by an adult.
Learn more here.
Featured Image – Track Visitor Park