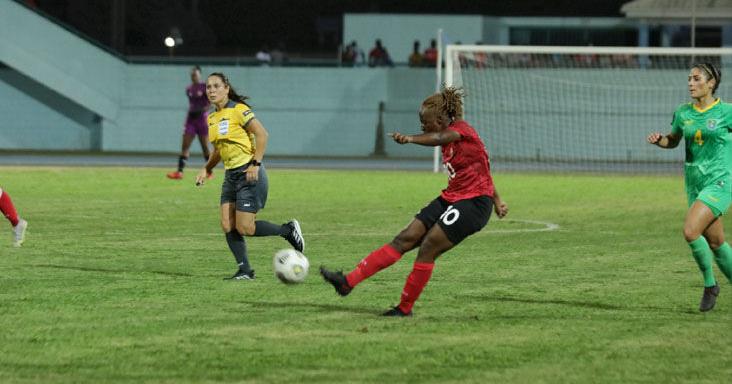 MORE ACTION WANTED | local sports
Sports and Community Development Minister Shamfa Cudjoe hopes the sister island will host more international matches after the successful hosting of the CONCACAF World Cup qualifiers last Tuesday.
The 7,000 capacity Dwight Yorke Stadium was almost at capacity for the game between the Trinidad and Tobago women's football team and Guyana.
Dwight Yorke Stadium hosted its first international football match in over a decade when the Women Warriors and Guyana battled to a 2-2 draw to advance to the next stage of the CONCACAF W Championship.
Cudjoe told the media that she worked with the Trinidad and Tobago Football Association to secure the game.
"It's about showing our talent, showing T&T, especially young people, the different opportunities and possibilities through sport for many young people who have come out today," Cudjoe explained.
Cudjoe added that it was even more important for her to support and promote women's sports as the female sports minister.
"…to show T&Ts that women (they) are also capable and competent. The return to play was successful and I am happy that national bodies like the TTFA seized the opportunity to come out of the moment we lifted the ban, allowing the sport the TTFA was ready to roll," said Cudjoe . The Minister added that she was further delighted with the huge turnout of Tobagonians who turned out in numbers and filled Dwight Yorke Stadium.
"…and we look forward to seeing many more (events like this). We have already started discussions with the TTFA about the possibility of hosting a men's game later in the year and to start talks with Jamaica, because this year we are celebrating 60 years of independence alongside Jamaica.
Cudjoe said the kind of energy and excitement generated by the fans was the main reason event organizers like the CPL wanted to hold matches in the Twin Island Republic.
Dwight Yorke Stadium is in its third phase of renovation. And the Minister also described the works that are still planned for the place.
"It's the only stadium that's had this level of renovation over the years… We're in phase three and are looking at moving to phase four where you'll see… the scoreboard, you see the gymnasium equipped, you see the well-equipped VIP rooms and press rooms. We look at the turnstiles when you enter the compound, so those are the other parts of the renovation," she said.
The Minister also stressed the need to maintain the facility.
"It is very expensive for the government not only to build, but also to renovate and maintain all these stadiums and we need the cooperation of users."